Robot assisted circuit class training for walking after stroke? Why not! Circuit class training in stroke rehabilitation is a highly recommended intervention. In this podcast Anne Moseley talks to Dr Jannette Blennerhassett and Dr Wayne Dite (Austin Health Royal Talbot Rehabilitation Centre, Australia) whose trial evaluating circuit class training in stroke rehabilitation is one of the most significant trials in physiotherapy!
In recent years, especially in the field of neurological rehabilitation, the industry is undergoing an unbroken process of change: The path is leading away from traditional therapeutic treatments to comprehensive evidence-based concepts. Are we in the right place at the right time with our concept?

Fig 1. Picture from the therapy gym at NRZ Magdeburg.
In 2017 we had the chance to start our project Loko-Solution! It was launched in collaboration with one of Germany's largest healthcare providers and we installed a first complete solution for gait rehabilitation in one of the biggest neurological rehabilitatation centers in Germany, the MEDIAN Clinic Magdeburg. In close cooperation we could show that with clearly defined processes, effective use and high patient satisfaction can be achieved. This can be seen as an example for many neurological departments.
Prof. Dr. Michael Sailer, the Medical Director of the rehabilitation centre, confirmed that a differentiated use of the complete solution was made possible with our professional support. The process of carrying out a preliminary analysis of a department's therapy processes, followed by the creation of new therapeutic pathways, was of vital importance for a cost-effective use. 
Following the implementation of the new clinical pathway we analyzed the processes in the clinic over an intervention period of three weeks. We included 27 neurological phase B and C patients in the device-based circuit class training after the start-up phase. During the intervention period, on at least two days a week, the patients attended one out of three 90-minute treatment blocks taking place every day. They were asked to do one unit each at three available training stations (dynamic standing frame, gait trainer, movement exerciser). In each case, two therapists were responsible for the care of up to six patients per treatment block.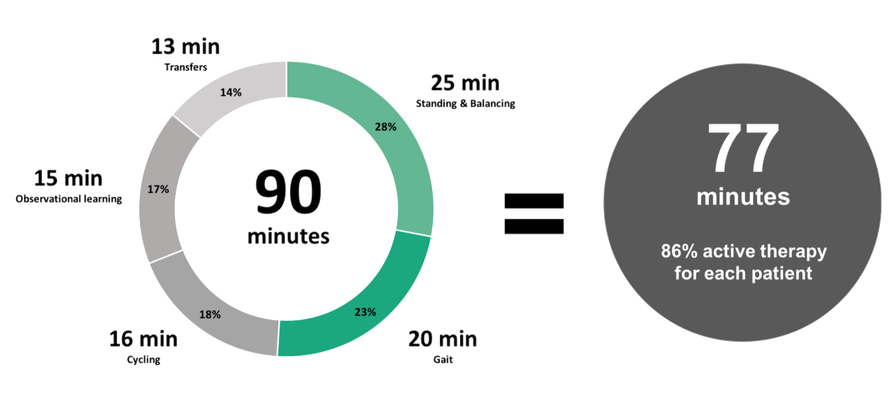 Fig 2. The picture above is showing the overall result of the recorded net therapy time. As we can see patients spent nearly 80 Minutes on active training. Compared to conventional therapy we can conclude that it is possible to increase active training time about 200 percent!
To assess the effective training time, we recorded the net times at the three training stations by using a computer and a documentation sheet. On average, patients in one treatment block did 25 (± 5) minutes of standing balance training, 21 (± 4) minutes of walking and 16 (± 1) minutes of strength and endurance training on the movement exerciser. Overall, this resulted in a net therapy time averaging 62 (± 3) minutes. Typically, patients spent 15 minutes on low-threshold additional therapy and training observation as other patients trained on the equipment. In average only 13 (± 3) minutes were needed for the setup times at the individual training stations!
For more information please visit the official project page on researchgate!